Ideal Instagram Video Length: Everything You Need To Know
Instagram, as a giant social media marketing tool, needs no introduction! In recent years, it has grown beyond anyone could expect! 
With 200 million Instagram users visiting at least one business profile daily, it is a fantastic place to ace the marketing strategies. When Instagram introduced the feature of posting videos, creativity exploded on the platform.
Since then, businesses of all verticals have been using this feature to introduce their brand to the users.
But, do you know what should be the Instagram video length for different types of posts? How can you leverage your videos to reach a bigger audience? Here's everything you need to know –
How Long Can Your Instagram Video Length Be?
Well, different types of Instagram videos require different lengths. They are:
Instagram Feed Video or Regular Video Length: 3 seconds to 60 seconds.
Story Video Length: max up to 15 seconds.
Live Post Length: up to 60 minutes.
However, these are just the basics. Let's have a little closer look at these video type.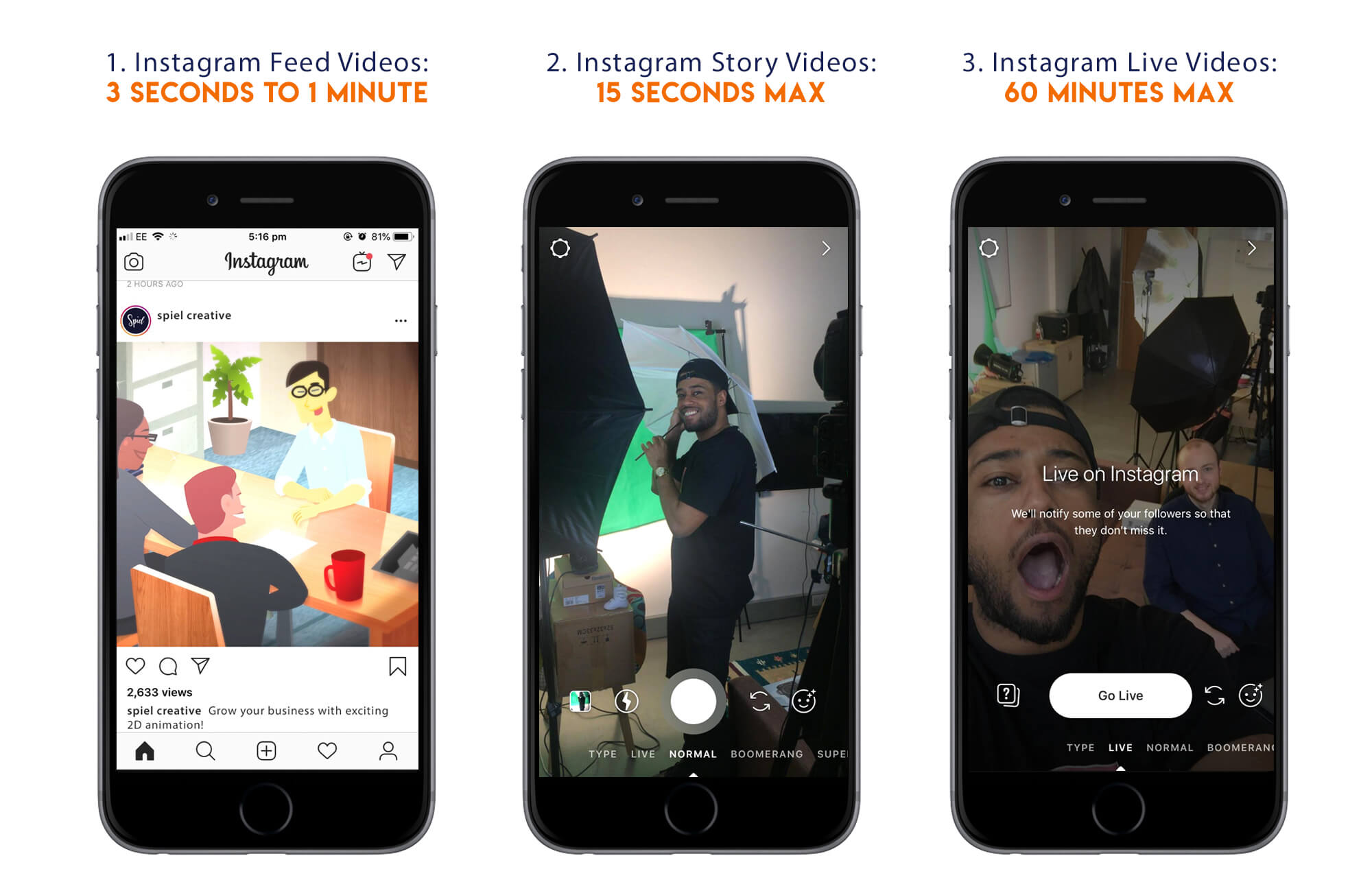 Instagram Feed Videos
Instagram feed is the main page of your Instagram profile. This is where you share videos and photographs, and reach to your followers. 
The ideal video length for feed videos can be anything between 3 seconds to 1 minute. You can't upload videos that are longer than 60 seconds. 
Instagram Feed Video Limit Hack
There is a way to get around if you want to show more than a 1-minute long video in your post-create a Carousel post! It will let you share up to 10 images or videos via a single posting. If a video is longer than the limit, chop it up into separate clips. 
To create a Carousel post, tap on the Carousel icon, and you can upload up to 10 videos. After previewing the carousel, you can edit or change the order of the videos.
Story Video Length For Instagram
For stories, Instagram offers a limit of up to 15 seconds. If you want to post videos that are longer than a minute, cut out it out into several short videos. You do it using your camera roll or android video-cutter apps.
Live Video Length
Instagram live video is a way to promote your brand beforehand and build a sense of excitement among the viewers. 
If you want to go live on Instagram, 60 minutes is the limit for posting. But, after hitting the 60-minute limit, it allows you to go live again for another 60 minutes!
The Best You Can Do While Posting Live Videos On Instagram
Prepare a well-crafted list, including all the important points you want to convey to the audience. The more viewers you get, the more likely your Instagram is to recommend the browsers to explore your page. 
Run a quick practice to test the audio and video quality of your post to avoid the blunders that may occur when you are live.
Ask your fans to submit their questions in advance on your website. Direct interaction with them is the simplest way to instant Instagram likes on your Instagram page.
How Can You Post Videos That Are Longer Than A Minute On Instagram?
If you want to upload longer videos, here are some of the options-
Link The Multiple Clips
Cut out the video into 1-minute chunks and link these parts together as a playlist on Instagram. This way, you can post videos longer than a minute in your feed.
Download External Apps
As an alternative to separating clips, you can download external apps to create an Instagram playlist, for example, IGTV. 
IGTV allows you to upload feed videos of lengths between 15 seconds and to 10 minutes for every regular Instagram account. The video length further increases to 1 hour for high popularity or verified accounts. The best part is the app is available for free direct download. Moreover, since this application is Instagram approved, you don't have security risks.
Tricks For Video Marketing On Instagram
To get the best of Instagram video marketing, knowing the length and quality content is not enough. You have to plan each aspect right from the theme of your video to its uploading time. The following are some tricks that you can consider.
Time your time
Time is the most basic and most crucial element of every Instagram post. It is the part that decides whether you actually get views or the post gets stacked under million of others on the platform. So, just analyze the user data of your Instagram followers and come up with the best time to post. Usually, it's preferable to use early morning or late evening for best results.
Try Solving Problems
The simplest way to attract an audience is to present something beneficial to them. A product that can ease their day to day life, tricks to look good, enhancing their confidence and knowledge are some of the topics you can try. If the users find your content value-adding, they will, without any doubt, follow and even share your page.
And, it will better if you present the value of your video in the first few seconds. It is the time when the customer decides whether to stay and watch the whole video or simply skip it.
Add Captions
Writing a quality caption is the most crucial part of every Instagram post. It is the part the exhibits your motive and story behind the post, presenting your point of view about it. It is also the part that allows you to attach links and other relevant data. You can use it to redirect users to your page, tell them to tag other users, and even provide a giveaway on the post. So, no matter what type of post or video you upload on your feed, always write a caption with it.
Test Your Post And Links
Let say that the customer finds your video interesting enough to click the link in your caption, but then, he/she ends up on a website that is not adaptable for smartphones. The odds of getting a click-through instantly turn to zero.
The same thing will happen if your content takes too long to load, have broken links, use irrelevant captions, or any similar problem.
Therefore, always check the content and links before posting the video. It is also ideal that you check the dimension and the format of the video before posting it (for feed videos).
Conclusion
Hopefully, this blog has answered all your queries related to the length of different types of Instagram videos. Post at the right times to reach your target audience and grow your business through the platform.